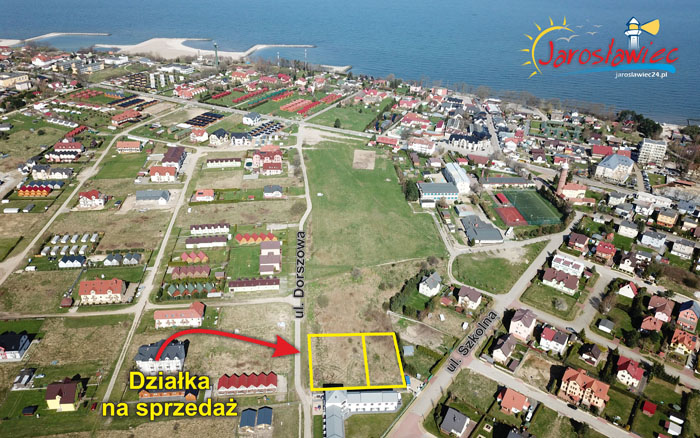 Exclusive building site at the Baltic Sea private sale directly from the owner Jaroslawiec, Western Pomerania, Poland
Type of Buildings:
Possible Single Family Home with the option of commercial use (touristical) up to 30%
Propertys size:
1880 m2, rectancular ca 39m x 50m
Traffic connection:
Concrete road
Fence:
none
Development:
water, waste water, electricity in the public road
Location
The site lies beautifuly in the town of Jaroslawiec, a fisherman's village and seaside resort in the Polish province of Western Pomerania, county Slawno, Municipality of Postomino.
The plot lies just 600m to the sea, in short distance to the lighthouse.
The site is fully developed (water, waste water, electricity) in the public road and connected to the public traffic.
There is a wide range of offers for leisure and recreational and for sporting activities in the near vicinity.
Direct sale from the owner.
Development
Perfect place for an ideal investment in a wonderfully situated single family house or an exclusive holiday home. Sufficient distance to the well frequented promenade but a the same time very close to the sea. The lot is very attractivelly located. There are no restrictions to develop the building by preservation order or nature conservation order. Only a few marginal architectual restrictions - free in desining the building. Pleasant neighborhood - low buildings with maximum two stories. Connected to the public traffic by a private road. For Baltycka, the part of the village, where the lot is located, the community has passed a development plan, which regulates that the plot can be developed with a single family home with optionable touristical commercial use up to 30%. This fact increases the value of the site additionaly.
Jaroslawiec
Ideal place for relaxing. For everyone, who loves and apriciates peace and quiet, untouched nature and clean iodic sea air. An oasis with argreeable micro climate and wonderfull wide sandy beaches, which are not crowded. Far away from your everyday hurry. Natural pine wood reaching up to the beach, full of mushrooms to find. Excellent fishing opportunities at near freshwater lakes.
This is no commercial offer.
No real estate agent is involved.
No Agent's commission has to be payed.
This is a private sale directly from the vendor.
Detailed informations about the site only to genuine potential byers.
For further information please leave your contact data and you are welcome to put your question below >